This page is about books recommended by theleansubmariner.
Christmas Wish List 2018
Right on top of the list for this Christmas is an Awesome book by James C. Goodall, (USAF, Retired)
The name of the book is
"The US Navy's Fast Attack Submarines (Volume 1) Los Angeles Class Submarines"
This book will give you an in depth look into one of the most important classes of submarines in the Navy's recent arsenal. With a forward by Admiral Gus Gustafson, the reader gets an inside look at one of the most lethal weapons developed during the Cold War. The pictures and the stories help to describe these amazing machines in a way that will leave no doubt about the capabilities of the ships many of us called home.
Even though the Virginia Class will eventually force the retirement of the boats of the 688 family, they will remain an important part of the submarine story.
Buy this book. Or have Santa bring you a copy. This is a must have for any submarine book collection. You will want it to pass to your kids and grandchildren. I honestly wish I had one like it from my first two boats.
https://www.schifferbooks.com/the-us-navys-fast-attack-submarines-vol-1-los-angeles-class-688-6231.html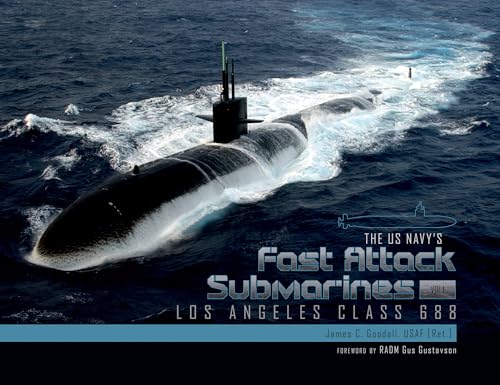 ---
Rick Campbell is the author of "The Trident Deception" a fictional story that reads like a well crafted Clancy novel. This is a gripping story by one who has submarine experience and the pages practically turn themselves. High Adventure is sure to delight every fan of submarine stories and I give this book four stars for excitement.
Norman Friedman's "US Submarines through 1945" is a must read if you are interested in submarine development and the history of the technology advances made during this period. I have been using it for research into my project on Sugar Boats and it has been invaluable in that effort.
http://www.amazon.com/U-S-Submarines-Through-1945-Illustrated/dp/1557502633/ref=sr_1_sc_1?s=books&ie=UTF8&qid=1398978715&sr=1-1-spell&keywords=US+SubmarinesThrough+1945
Finally, Rear Admiral Hank McKinney penned a book called "Flotsom and Jetsam" a collection of sea stories that have washed ashore during a forty year career in the United States Navy.  While I have just started reading this book, it is certainly a great collection of stories that every cold war sailor can relate to.
The Complete Idiots Guide to Submarines
http://www.amazon.com/dp/0028644719/ref=rdr_ext_tmb
NEW BOOK FOR THE LIST
Secret War
About the author: Captain Schwartz commanded USS Haddock (SSN 621), the submarine about which he wrote, but just prior to the time depicted in the novel. At that time, August 1991, he was in command of USS Michigan (SSBN 727) (Gold Crew). He also served on USS Queenfish (SSN 651), USS Will Rogers (SSBN 659), USS Puffer (SSN 652) as Engineer Officer, and USS Guitarro (SSN 665) as Executive Officer. Shore assignments were at the Bureau of Naval Personnel and in the Submarine Directorate on the Chief of Naval Operations staff. Additionally I was Deputy Commander of Anti-submarine Warfare Forces, Pacific and Professor of Naval Science at the University of Idaho. Captain Schwartz retired from the Navy in 1998 and lives in Port Saint Lucie, Florida with his wife Lin and young twins, Karen and Kevin.
Good Reading
Mister Mac